The challenges of Organizing the EWM General Meeting: an interview with Karin Baur
by Sara Munday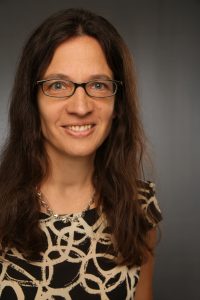 Karin obtained her PhD at the University of Basel in 2002, and held postdoctoral and lectureship positions in Zurich, California and Leicester before obtaining her professorship at Graz. She has been the recipient of many prestigious grants during her career, including Marie Curie and Lise Meitner fellowships. One project in particular that stands out from the many in pure algebra is collaboration between mathematicians and musicians entitled: Mathematics and Arts: Towards a balance between artistic intuition and mathematical complexity. The project website can be found here.
As well as her illustrious scientific career, Karin also is married and has four children. Two of her children were born during her PhD studies, the younger two coming along during the period of postdoc positions. Karin was also interviewed and photographed as part of the project, "Women Mathematicians around the World, a Gallery of Portraits". Her interview can be found here.
For this issue of the newsletter, we asked her some questions about the organisation of the 18th general meeting. 
What is your history of involvement with the EWM?
I first attended general meeting in Madrid in 1995 and then in Trieste in 1997 (I think). It was amazing for me to attend the meeting in Madrid. In the university where I studied, there had been no female faculty member in mathematics. (And there still was none until quite recently). Seeing all these female mathematicians reinforced me in my wish to become a researcher. In Madrid and in Trieste there were mini courses, so I got to get a look at other research areas. I have been a member since then.
For the general meeting in 2013, I was invited as a speaker. That gave me the opportunity to meet members and become more active.
What made you think to propose the meeting in Graz as an organiser? Was it more or less difficult than you expected?
I had been asked before whether we could have the general meeting in Austria. I had been reluctant to commit at first and had said I would help but not organise such a large event. But then eventually, I was convinced (thanks to Marie-Françoise Roy and also to Sylvie Paycha).
It was a lot of work, but in the end, it was probably a bit less difficult than I expected. Mainlythis is due to the team: as main organisers (Kathryn Hess, Elena Resmerita, Carola Schoenlieb and I), we got along very well. We had regular skype meetings from the start, so the work was spread well.
Can you give us some of your impressions of the meeting as it was taking place and then thinking back to it now, several months later? Do you have any particularly vivid memories?
During the meeting I was rather busy trying to take care of all things arising. I was a bit worried about missing something or other. Several months later I'm much more relaxed. I think it all went very well.
Vivid memories: When skype/google hangouts did not work with Gigliola Staffilani. Or when the memory card of the camera stopped working.
[Gigliola Staffilani was the EMS speaker, who was unable to travel due to health problems, and so gave her lectures via skype. The first morning there were technical problems.]
Text comment...