EWM members are expected to pay their fees every year.
There are three categories of fees
low fees (currently 5 euros) for students, unemployed or professional mathematicians from countries where incomes are low
standard fees (currently 20 euros)
high fees (currently 50 euros) for members who wish and are able to support more EWM activities.
You decide yourself your category of fees: high, normal, low.
There are different ways to pay the fees. Please look through the descriptions below to choose the one that works best for you.
Please address your transfer to:
NORDEA BANK FINLAND PLC, ALEKSANTERINKATU 36, NORDEA, Finland, FI-00020
Beneficiary Name: EWM
Currency: EUR
IBAN: FI8216523500218071 SWIFT/BIC: NDEAFIHH
You can pay directly to your local coordinator, especially if you want to pay in something other than EURO. You can find an up-to-date list of country coordinators here.
Members of the Italian Mathematical Society can choose to have their fees collected through the UMI.
Members of the London Mathematical Society can choose to have their fees (in GBP) collected through the LMS.
EWM member area (recommended)
This is the recommended method for paying your fees. All membership fees paid via the member's area are automatically registered in the your payment history.
Log in to your profile

In the member area, choose "Membership fee"

In the member area, select your preferred Membership Level or click the "Donate" button. Both options use PayPal to complete the transfer but there are a couple of differences:

Donation allows you to specify your own amount. Unless otherwise specified, the donation will be treated as a membership fee payment.
Choosing a membership fee level is the most straightforward solution if you already have a PayPal account.
If you do not want to have a PayPal account or live in a country whether the use of PayPal is limited, we recommend using the "Donate" option. This usually allows to bypass the restrictions. Note however, that PayPal has internal rules limiting this type of transaction and after a certain (publicly unknown) number of transactions from the same credit card, it will insist on account creation.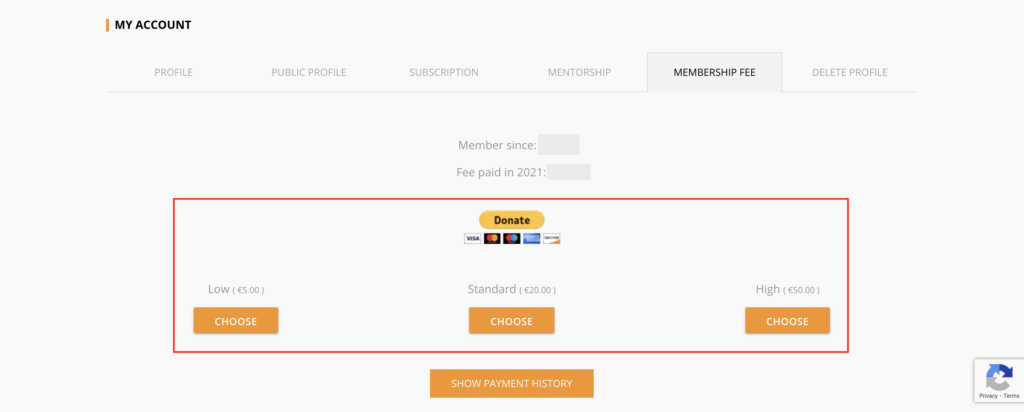 RECEIPT FOR YOUR MEMBERSHIP FEE PAYMENT
Should you require a receipt for your membership fee payment, please email membership@europeanwomeninmaths.org with the following info:
copy/screenshot of the transaction (bank or PayPal)
your name and institute
sum paid and for which year it is
your mailing address if a scanned copy is not sufficient and you require a hard copy