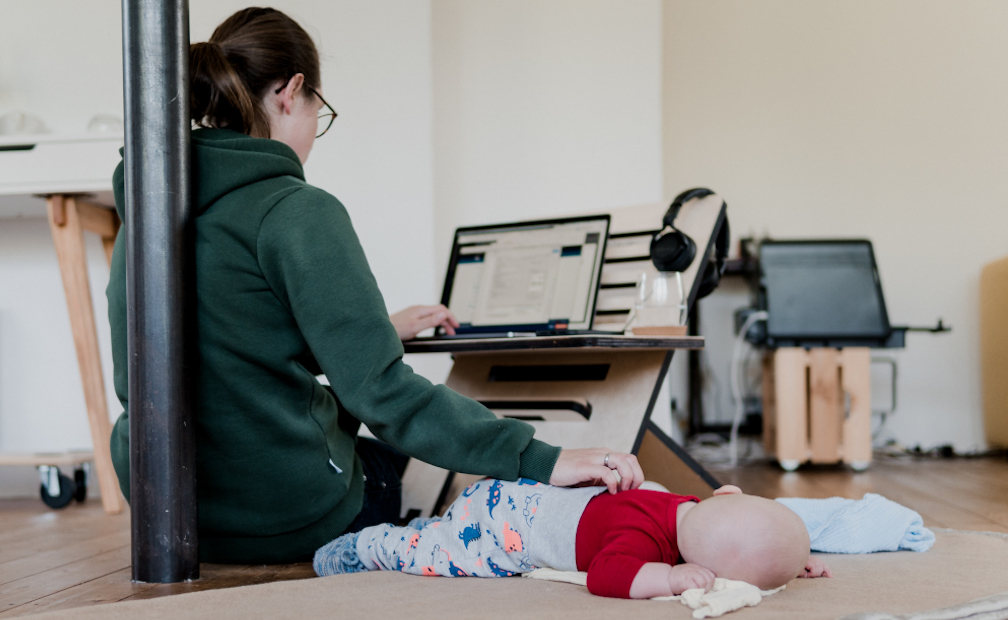 The impact of the corona crisis on junior and women mathematicians: working group and open letter
By Maria G. Westdickenberg
We have taken it for granted that one can work and raise children. It might be hard, it might require compromise, and it is not the choice of every family. But it is an option; that is what we thought.
Parents scrambled to find ways to meet the childcare and educational needs of their children while continuing to fulfill their job requirements.
The bedrock on which the right to work and raise children rests is a system of daycares and schools. When the COVID-pandemic struck and care facilities shuttered, there was no Plan B. Parents scrambled to find ways to meet the childcare and educational needs of their children while continuing to fulfill their job requirements. And in the storm of activity and anxiety that ensued, old questions resurfaced, at home, at work, spoken, and unspoken: Whose job is it to raise children? Is having children a luxury? A personal choice? A societal contribution? Is it the individual or the society who (a) is responsible? (b) benefits? And if a global pandemic and national emergency protocol result in fewer hours worked, who bears the responsibility?
Questions regarding school shutdowns are just one example of fallout from the Corona Crisis. Academia was hammered on multiple fronts: Digital teaching required immediate investment of massive resources; conferences, workshops, and research visits were cancelled;  research discussions were postponed or carried out in an abridged and remote form.
Academics with permanent positions can better afford to "weather the storm".
Of all the repercussions in academia, the toll on junior mathematicians is the most widespread and threatening. Academics with permanent positions can better afford to "weather the storm". An article that doesn't appear this year can make it the next; a research project that will take six months longer to complete is survivable; fewer talks now can be outshined by more talks later. We can bide our time. And we have plenty of open questions to tackle in the meantime.
Junior mathematicians don't have the luxury of time. Postdocs need to get out and give talks, meet new mathematicians, develop a vision for future research plans and grant applications. PhD students need to discuss with their mentors and peers, expand their horizons by attending conferences, test their mettle with poster presentations and contributed talks. Master's students need to learn about career possibilities by getting to know doctoral students, postdocs, and faculty. But the hallways are deserted.
What happens to academia when the known modes of operation freeze?
We will find out. But two things are clear:
Training and job opportunities for this generation will be impacted.
Junior colleagues from different groups will experience the new landscape differently.
Within the EWM, we formed a Working Group on the Corona Crisis in July 2020 to discuss the challenges faced in academia because of the pandemic and to propose proactive measures to help support young colleagues. The call went out by email to all EWM members, and the Working Group was formed with members from England, France, Italy, Germany, the Netherlands, Norway, and Portugal. We agreed that it would not be possible to write a perfect letter and that circumstances varied significantly by place, even within Europe. We agreed that we would not be able to speak to every concern. And we agreed, as a consequence of these considerations, to try to write a concise and focused letter that aimed primarily at: (a) nontenured mathematicians, because of their risk/liability; (b) women, because statistically, women are more affected by the increased domestic and childcare demands; and (c) parents, because of the aforementioned closings of daycares and schools.
While agreeing that it was strategic to shape the letter in this way, we did not mean to minimise or overlook the additional burden shouldered by single mothers,  people of colour, and mathematicians facing mental health issues. We did not mean to suggest that parenting children is more important than caring for the elderly. Because we could not speak to every need at once, we made a selection that seemed broad and significant. At the same time, we agreed to launch a "Resources and Discussion" website to allow space to discuss additional needs and issues that fall outside the parameters of the letter we would write.
What about men? Obviously, many men play a fundamental role in domestic duties and caring for their children. We agreed that proactive measures supporting young scientists should offer support to men whose productivity had slipped during the crisis. At the same time, it does not level the playing field when blanket measures are offered to all, such as extending PhD contracts by six months for everyone in the department. For heaven's sake, some junior colleagues have been MORE productive during the crisis than before! Similarly, a young woman with two small children cannot be expected to compete with a young person with no children—if neither is given an extra six months or if BOTH are given an extra six months! As an extra acknowledgement of the disproportionate care burden that still falls to women, we decided to advocate for policies for which women with dependent children are automatically eligible, and for which men with dependent children or anyone involved in eldercare can apply.
Our discussions led us to consider studies that show that gender-blind support policies have in the past benefited men more than women (references can be found on the Resources and Discussion page). If we accept the premise that women are underrepresented in Mathematics and face gender bias (during training, as job applicants, as faculty), then it seems that a policy designed to improve gender equity ought to favour women, even if our ideal of equality leads us to regard such measures with suspicion. While remaining vigilant against abuse, we, therefore, agreed to support policies that are skewed in women's favour.
Specifically, we recommend:
Extension of contracts of those in temporary positions, giving particular consideration to women.
Release from teaching or teaching reductions for those in temporary positions, giving particular consideration to women.
That women with dependent children be automatically eligible (although not required) to subtract up to 12 months from their academic age – for the purpose of hiring, grant eligibility, tenure deadlines, etc – due to disruptions from the COVID-19 pandemic. Men with dependent children and people involved in eldercare should be allowed to apply for the same.
Flexibility in deadlines and meeting times and a workplace that allows workers to discuss needs and constraints.
The open letter was approved by the EWM on 14 September 2020, and as of 25 November 2020, the letter has been endorsed by eleven organizations and committees, including the
Association for Women in Mathematics (AWM)
British Logic Colloquium Committee
Canadian Mathematical Society (CMS)
Fachgruppe Frauen und Informatik in der Gesellschaft für Informatik
Gesellschaft für Angewandte Mathematik und Mechanik (GAMM)
London Maths Society Committee on Women and Diversity in Mathematics
Österreichische Mathematische Gesellschaft (ÖMG)
Sociedad Española de Matemática Aplicada (SEMA)
Société Mathématique de France (SMF)
Unione Matematica Italiana (UMI)
Women in Mathematics Special Interest Group (WIMSIG) of the Australian Mathematical Society
and signed by over 870 individuals around the world.
The letter is published here.
Have you signed? Have you forwarded the link to colleagues and friends?
If every EWM member shares the link with her contacts, we have the potential to double or even triple the number of signatures. Help to spread the word!
The Resources and Discussion page offers ideas and links related to the crisis and its impact. It has been created and is being maintained by
Mia Jukic (Leiden University),
Rebecca Waldecker (Martin-Luther-Universität Halle-Wittenberg), and
Maria G. Westdickenberg (RWTH Aachen University).
For suggestions and constructive feedback, please use the anonymous google-form on that page or send us an email.
For endorsements, please contact us by email.
Text comment...