GM2022 will take place in Aalto University. The campus (Otaniemi) is located in Espoo, about 10 kilometres from the centre of Helsinki, which can be reached by metro and bus directly to the campus, and has good public transport links from other parts of Espoo and Helsinki-Vantaa Airport.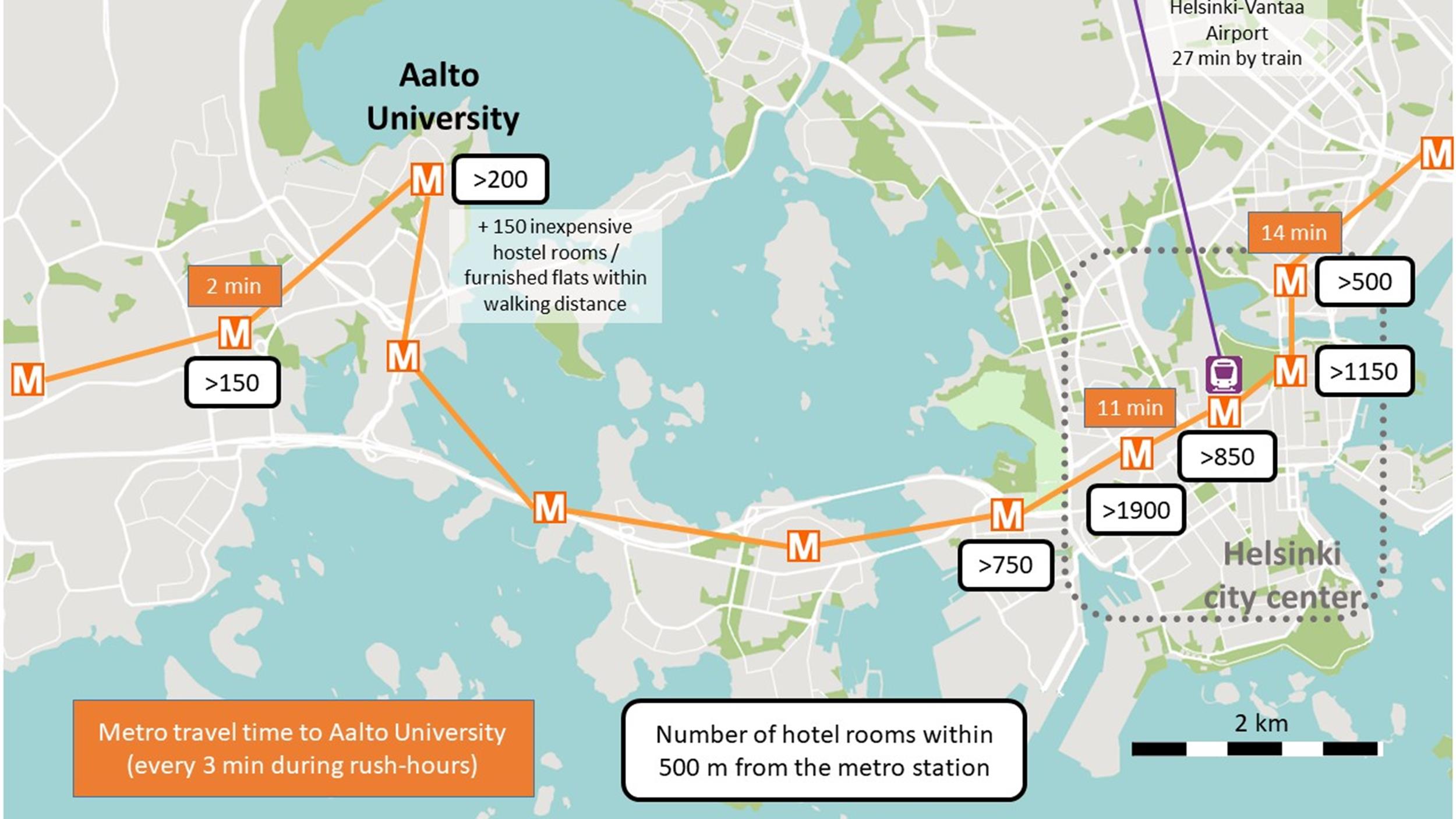 Helsinki metropolitan area has a good public transportation network. You can plan your route using the travel planner.
The easiest way to get from the airport to the city is to take a local train.
Aalto University can be reached by metro (stop: Aalto University, exit A) or buses. Travel time from the main railway station to Aalto University by metro is 11 min.
The conference will take place in the main building (Otakaari 1), also known as Kandidaattikeskus/Undergraduate Centre and is marked 1 on most campus maps.
Public transportation tickets
Ticket price depends on the number of travel zones that are being crossed. Helsinki-Vantaa Airport is located in zone C, Aalto University campus is in zone B and Helsinki city centre is in zone A. The price of a single tickets for zones AB or BC is 2.8 EUR and for zones ABC 4.10 EUR.
The easiest way to get a ticket is buy installing the HSL app from App Store, Google Play and AppGallery. You can plan your journey and buy the tickets directly from the app. It has English language user interface. Alternatively, you can purchase a top-up card or a single ticket from a sales point.
Taxi
Airport – Campus ~60 EUR, Helsinki city center – Campus ~40 EUR
NB In Finland, calls to customer service numbers are not free (approx. 2 EUR/call + 0.25 EUR/10 sec) but most taxi companies have apps where taxi can be ordered without extra fees.
Useful maps
Should you be interested in sharing a double room, please contact us at ewm-gm2022@europeanwomeninmaths.org  for further instructions. 
Affordable
Helsinki city center
Campus
Comfortable on campus