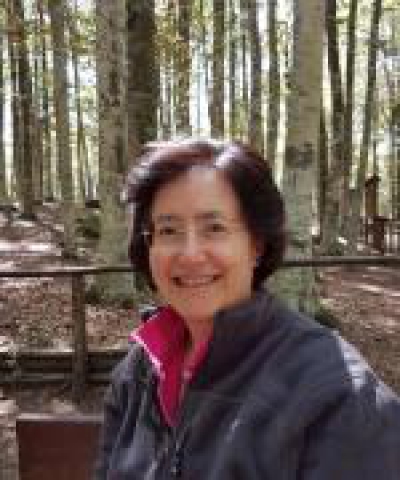 Alessandra Celletti
Born in

Italy

Studied in

Italy

Lives in

Italy
Interview
From EWM Newsletter no. 27 (2016)
Alessandra Celletti is currently head of the Departement of Mathematics at the University of Rome Tor Vergata, vice-president of the IAU Commission on Celestial Mechanics and Dynamical Astronomy, past-President of the Italian Society of Celestial Mechanics and Astrodynamics, member of the scientific committees of the Italian Mathematical Union and the National Group of Mathematical Physics.
She is internationally recognized for her works on Dynamical Systems, especially on KAM theory, and Celestial Mechanics. She was invited speaker at the 6th European Congress of Mathematics. Besides an extensive list of research publications, she is also the author of several popular books on Celestial Mechanics.
The asteroid n. 117539 (2005 DJ1) bears the name "Alessandra Celletti".
EWM: Have you always been interested in mathematics? When and how did you decide on an area in which to specialise?
One of the first memories of my life is from when I was about 5 years old and somebody asked me what I wanted to do when grown-up. My answer was that I wanted to study the sky through Mathematics. Of course I did not know that the name of what I wanted to do was "Celestial Mechanics"! Over the years I never changed my mind (I am very persistent!) and my studies were always focused on Dynamical Systems theory and Celestial Mechanics. The only short hesitation was when – as a teenager – I was tempted to become a director of scientific short films (see below).
EWM: Can you tell us a little about your career path so far, and any particular obstacles you had to overcome?
The main obstacle has been when I was a child and teenager, since my father did not appreciate my attitude for Mathematics and would have liked me to do something else. This was the first obstacle. Luckily, my mother and my grandmother, with whom I lived and grew up, supported me under all aspects. I took a Master in Mathematics at Roma La Sapienza and I moved to ETH-Zurich where I obtained my PhD. I was extremely honoured to have fantastic advisors, J. Moser and J. Waldvogel, who enhanced my curiosity for Celestial Mechanics. There were not many female PhD students at that time in Zurich and I was mostly alone. Soon after my PhD I got a position as Researcher in L'Aquila, the town that was almost destroyed by an earthquake in 2009. I spent wonderful years in L'Aquila from 1990 to 1999, when I moved to Roma Tor Vergata as associate professor.
During the following years, I made a lot, really a lot, of applications for full professorship positions: I collected excellent reports most of the time, but no position. More than once I have been told: "You deserve a position, but as a woman you can wait". But, you know, I am persistent and I continued until I became full professor.
EWM: You have recently been appointed Editor-in-Chief of the journal "Celestial Mechanics and Dynamical Astronomy". What do you expect from this experience?
I like to read papers, working for this journal gives me the opportunity to have a lot of information on the most recent results in the field. I just started in the new job and therefore I still need to master the mechanism: I think I will learn a lot from my colleagues. As a personal wish, I hope that more women will contribute to the journal and will join the editorial board. I already raised this issue.
EWM: You are a member of the EWM scientific committee. Can you tell us why you think it important to do this job?
In many occasions people justify the fact that they do not invite women to a conference, a committee, or an editorial board, because there are no good candidates. In the years I spent in the EWM scientific committee, I learned that there are a lot of excellent women candidates for conferences, committees, etc. So the argument used for not including them is false. In this respect, as I proposed to the Italian Mathematical Union and as it was also mentioned within EWM, I think it would be very useful to have a regularly updated list of women mathematicians with names, seniority and expertise.
EWM: Your publication list is extensive, also including several technical and popular science books. Do you find time for hobbies outside of mathematics?
Good question. I used to have many hobbies, beside my job of course, which is the "primary" hobby. In the past I played tennis, went sailing, played classical guitar, then piano, etc. I have never been very constant in my "secondary" hobbies. At a certain point I spent a lot of time making popular science short movies: I made three videos co-produced by the Italian Space Agency, titled "The numbers of the Universe: from zero to infinity, and back". I even dubbed two of them! It was a lot of fun. Please, don't ask me if I have hobbies now… I should practice some sport, but I am very focused on my work (I am also Head of Department…).
EWM: Can you explain something of your particular favourite research problems?
I always need to work on more topics in parallel, at least one theoretical and one applied. Among the theoretical subjects, my favourite one is KAM theory, on which I have worked since my master thesis. The aspect that I like the most is that it needs to mix in a proper way analysis, dynamical systems, number theory, and even methods for computer-aided proofs. The theory concerns the persistence under small perturbations of surfaces run by quasiperiodic motions.
My favourite applied problem is why the Moon always shows the same side to the Earth. This is a problem of rotational dynamics in Celestial Mechanics: it is due to the fact that the period of revolution of the Moon around the Earth is the same as the period of rotation around itself. Such behaviour is very common in the Solar system and it is called a spin-orbit resonance. Combining KAM theory with spin-orbit resonances is definitely my favourite problem!
Interests
Dynamical systems and ergodic theory
Mechanics of particles and systems
Relativity and gravitational theory